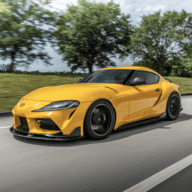 First Name

Phillip
Joined

Dec 15, 2020
Messages
Reaction score

429
Location
Car(s)

Current - 2020 Nitro Yellow GR Supra Premium
So long story short, I wanted to add a little more volume to the car before voiding the warranty and doing DP and tune, and did not want to spend 1k+ on a catback system. I knew that the factory exhaust has a suitcase resonator where it splits into a Y pipe, and went to my local exhaust shop, and had them fab up a Y pipe in the factory size. They cut right before the Flange to the downpipe, and right after where the suitcase resonator ends, so in total about 2.5 feet of exhaust was removed, the oval portion in particular. The car did not lose or gain any power or performance from what i can tell, besides maybe losing 15 or so pounds.
Sound- Well the first hour or so, from the inside, the car sounded pretty much stock, my friend and girlfriend both said that on the outside the car definitely started a little louder and was deeper, From the inside, was def hard to tell. After a coupe revs, I noticed a slight increase in the overrun volume, and the car sounds deeper forsure, I would say it's not even 10% louder revving, but again, the car sounded deeper and throatier. Now that it has been a week or so, the car sounds great, I don't know if its placebo, or just the car hitting 3k miles and the muffler breaking in more, but I am happy with the $150 it took to do the resonator delete. When trying, you can make the car gunshot like crazy, like ear hurting, piss of everyone, hear from .5 mile away gunshots, and the tone is still lacking in volume, but it is better than before. Now in comfort mode, there is 0.00 difference, cold starts sound basically the same, and under low rpm in sport, it sounds stock, which for a lot is a benefit, if the car stock didn't annoy the wife/husband/kids or neighbors, it definitely won't now.
Warranty- so deleting the resonator really has 0 effect on the warranty, not touching anything electronic, no emissions equipment, no tuning etc etc. Technically by cutting up the exhaust, the cat back exhaust warranty could be voided, but my dealer has no issue with it, but for the sake of re sale, and if anything ever happens, and this is totally unnecessary, I picked up a basically new stock exhaust for $100 bucks from a local supra buddy, I partly did this because my OG plan was to remove both muffler and resonator, and keep the valves with a custom system, and I knew it would harder to revert the exhaust back to stock afterwards, with just the res delete, it is a very simple cut and weld.
Final thoughts- If you are looking for a drastic change, then this the not the mod for you. If you think I am cutting up a brand new 60k car and I am an idiot and should have just got an exhaust, this is also not for you. If you are looking for a little more noise, and a tiny weight drop, and don't want to break the bank and be able to go back to stock easily, this is the mod for you and I recommend doing it. I think this coupled with the downpipe, will be a perfect system, still very tame and manageable with valves closed, but refined and loud with them open.
Sound clips, 1st clip is taken with a professional camera, so sound is pretty close to what it actually sounds like, even though audio is never perfect over speakers, the overrun and burbles are louder, rest of the clips are iphone 10x
PS* The car also has a BMS intake
Pulling away