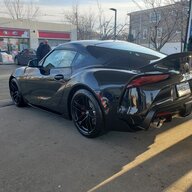 First Name

George
Joined

Jan 17, 2021
Messages
Reaction score

21
Location
Car(s)

21 Supra A91 Edition, 19 Camry, 04 Sequoia
Close.. If you are unlocked with Bootmod3, you basically have two options right now without RE-UNLOCKING. BM3 or MHD. For whatever reason, this unlock only works with those two tuning companies.

When I inquired to go ecutek, I was told I need to RE-Lock and RE-UNLOCK for ecutek specifically. To do this, the ecu would need to be sent out (I do not have a local unlock service for ecutek) There are obvious risks there, shipping, etc..

In short, I have Jeff Payn tuning my car via BM3 platform. He typically tunes on ecutek, but can use BM3 as well. Had I known this in the beginning, I wouldn't have even entertained ecutek. I also really like having my maps cloud based. Anywhere I go, I can access them. Ecutek requires a usb dongle (Correct me if Im wrong) BM3 will have rolling anti-lag, ethanol analyzing and map switch on the fly soon, I have always enjoyed their platform so I will stay loyal.

I will say, their OTS maps for the supra were awful.. But, I helped them iron those out with a month long datalog festival, lol. Tuning is such a touchy subject in this community, there are incredibly strong opinions and everyone's guy is "the best". Just do your research and go with whomever fits what you are looking for. Botti is great, f80 paul is great and Payn is great. Those are the guys I trust right now.

Hope this helps.
after watching your video i think i may be seeking the similar features you are, as in looking for that extra punch but still having the daily drive ability, i mean hey we bought the cars to drive them right? im glad i was right that you are on the forums keep doing what youre doing fam cause likely what you end up doing i may mimic to a degree, mainly referring to the tune aspect.