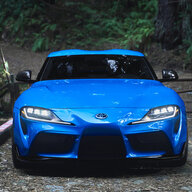 Joined

Dec 9, 2020
Messages
Reaction score

129
Location
Car(s)

2021 A91 Supra Refraction Blue
Hello,
A bit about me:
Had a 1987 Supra as my first car back in 2007. Dreamed of a MK4 one day, well that will still happen some day but I needed something I could daily drive.
2021 A91 Supra it is! It was the only car where I was smiling during the entire test drive!
Previous Cars:
- 1987 Supra
- 2006 350Z
- 2005 Scion TC
- 2015 Mustang GT (Still have it for now)
- 2017 Toyota Mirai (Traded this lease in when I got the Supra, took another $2.5K off)
- 1967 Camaro (Quarantine Project, still have it)
- 2017 Forester XT (Wife's car)
Current Mods:
- PPF on all the important parts
- Tinted windows (20% rear, 35% front)
- Tinted reflectors
- ECS Spacers 13mm front, 15mm rear
- Supra-Star Carbon Fiber Hood Vents
- Maxton V2 Lip
Planned Mods:
- HKS Springs (Unfortunately this needs to wait until I have a new house towards end of the year, current one is NOT scrape friendly)
- Exhaust (HKS or Magnaflow, still deciding)
- Intake (Armaspeed)
- Tune (My ECU is 5/25)
- Downpipe
- OEM A91 Spoiler
Goal is to keep it as a nice daily, of course when I say daily it isn't like I drive much either other than fun drives.
My IG is @TheRobLife if you wanted to follow it on there too, I also do other car photography
My YouTube Channel is "Robs Autos" I try to post videos regularly there also
Last edited: