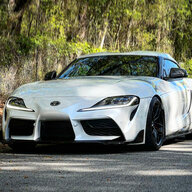 First Name

James
Joined

Feb 5, 2021
Posts
Reaction score

19
Location
Car(s)

2021 Supra 3.0 Premium
I finally found what appears to be the ideal spacer and suspension setup for the more conservative A90 owners that are looking for a slightly more aggressive stance. If you are looking for a clean and slightly more aggressive setup but you prefer a more refined look and your "Boy Racer" days are behind you, please review the below photos and see if this is the look you are going for. I prefer an OEM+ appearance these days and want to keep the factory wheels (Switching to A91 black wheels this week). I also went with the H&R Sport Spring kit which was relatively simple to install and only took me 4 hours to do alone in my garage. The spring kit provides a nice ~1" drop while retaining the factory tuned ride almost entirely. Originally I had 12.5mm spacers in the front and 15mm spacers in the rear and after close analysis it really did seem to slightly lack the fill that I was looking for.
The suspension and wheel setup in its current form is as follows:
Front:
OEM Wheels and Tires 255/35/19
H&R 15mm Black Spacers with 43mm Bolts
H&R Sport Springs (Approximately 1" Drop)
ZL1 Rock Guards
Rear:
OEM Wheels and Tires 275/35/19
H&R 18mm Black Spacers with 50mm Bolts
H&R Sport Springs (Approximately 7/8" Drop)
ZL1 Rock Guards
Spacers:
https://speedindustry.com/hr-trak-dr-wheel-spacers-gr-supra-20-black
Bolts:
https://speedindustry.com/hr-wheel-bolt-gr-supra-20
Springs:
https://speedindustry.com/hr-sport-spring-a90-mkv-supra-gr-2020-28664-1-w-adaptable-suspension
Rock Guards:
https://zl1addons.com/collections/t...0-standard-rock-guards?variant=31150515814463
Pay close attention to the tires sidewall lip slightly protruding from the rear of the body, the actual tread still tucked under the car.
In my opinion, this configuration utilizing the 18mm spacers in the rear provides the best aggressive fitment of the OEM wheels
The same is true for the front wheels utilizing the 15mm spacers, with the sidewall lip slightly protruding from the body with the actual tread still under the fender
Overall the stance is refined and mature, perfect for someone looking for an OEM+ appearance that leans aggressive
It is also worth noting how well the shape of the wheels align with the contour of the rear fenders in this configuration. Precisely how a designer would flow their body lines in a rendering.
I'll be installing a set of Black A91 wheels with the same tires tomorrow afternoon so there will be some fresh pics after. I just wanted to share my findings with hopes of steering someone in the right direction!
Last edited: