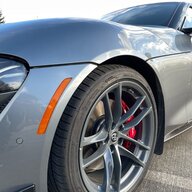 First Name

John
Joined

May 1, 2021
Messages
Reaction score

191
Location
Car(s)

2021 Supra 3.0 Premium
I recently installed the AMS wind buffeting kit and I am trying to figure out if some wind noise I am noticing (with the windows up) already existed before installation, or is due to the kit.
https://www.amsperformance.com/product/ams-performance-mkv-toyota-gr-supra-anti-buffeting-kit/
Basically, with the windows
closed
, I am noticing a slight amount of "wind noise", like the kind that might make you check that the windows are up all the way, or that you might hear if driving in heavy wind and you can hear it blowing against the car. Just a little bit, and its impossible to notice if radio is on etc. The thing is, I honestly can't say if this is something that was always there stock and maybe I am now just noticing it.
It's a minor thing either way, but curious to see if anyone else has noticed this.
They do work great for eliminating the wind buffeting issue with the windows open, no complaints there.