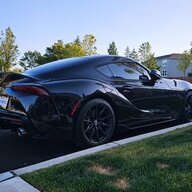 First Name

Daniel.
Joined

Jan 16, 2020
Messages
Reaction score

93
Location
Car(s)

2020 GR Supra , 2006 Z4M Roadster, Accord 15 v6 - 6, Mini S 2020.
Hi,
I am thinking on going with Meth Injection, maybe this was covered before, but can't find it. I do have very basic questions:
Where to get it? Like, it is true that the washer fluid is ok?, maybe adjusting the mix to 50\50 ?
How long does it last? Like, the fuel tank is good for 250 miles on average (at least on my usual commute), it will last this long or would be less? I know this depends on the container and how aggressive my driving habits are, but it is on the same ratio of fuel burning?

If I run out of Meth, the tune would be dangerous? Like I should not drive or just avoid WOT?

Would it work with "just" BM3 or Ecutek? Meaning, how the controller work alongside the tune? like, how the Ecu would know that hey, we have some meth?
How safe it is for daily?
Thanks for the time. if am going this route I would need to be able to use the car like a daily, or maybe be able to go for long trips where I may run out of Meth. Or if this is not possible, meaning that the use of meth is more delicate, that's fine, just to know what I am getting into.