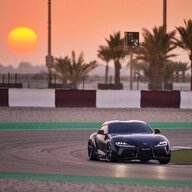 Joined

Aug 19, 2019
Messages
Reaction score

201
Location
Car(s)

AP1 S2000 Racecar, Westfield Aerorace, Evo 8, C6 ZO6, 370Z, Zupra
Vehicle Showcase
Ok so two days ago I received my new Supra and I could't wait to see what it can do at my home track (Losail International Circuit)
View attachment 16960
I really enjoyed using it as a daily, but I had to do track alignment since the first track of the season was on the same week.
View attachment 16961
Ended up at -1.6 front camber and -0.05 front toe. while I had 1.6 rear camber with +0.03 rear toe.
Some photos of my S2000 with the Supra at the trackday.
Now the weather these days in Qatar is extremely hot and humid, however it was at night so I thought how bad could it be? Well it was really bad. I had the secret menu opened to monitor the oil temperatures and was surprised that it idles at 110 C. Anyway I went out and did one hot lap only and the oil temperature jumped from 110 to 146 C as can be seen in the video below.
Personal best lap times
Porche 991 GT3 CUP -Slicks (2:03.3)
Porche 991 GT2 RS (2:07.4)
Mclaren 675LT (2:14.6)
Porche 991.2 GT3 Touring MT (2:15.3)
Porche 991.1 GT3 (2:16.0)
Nissan 370Z Track car RE71R (2:20.3)
Toyota GT86 CUP - Slicks (2:20.9)
BMW M2 - RE71R (2:21.5)
Honda S2000 AP1 Racecar (2:22.2)
Toyota GT86 CUP Racecar (2:23.5)
Toyota Supra 2020 (2:24.9)
Westfield Aerorace (2:25.4)
Lotus Evora 400 (2:26.8)
Lexus ISF (2:27.6)
Lexus RCF (2:28.1)
Mitsubishi EVO 8 (2:29.1)
Porche Singer (2:30.4)
Kia Stinger (2:33.2)
Honda FN2 (2:33.2)
BMW 135i (2:34.7)
Mazda Miata RF 2019 (2:36.7)
Lexus IS350F (2:38.6)
Ford Focus (2:39.7)
Lexus LC500h (2:41.7)
For the guys who are using the secret menu at the track, how high does oil temperature goes during one season or one lap?
I know that our weather was not ideal as many cars struggled in the heat, however the Supra seemed to be the fastest to reach extreme oil temperatures. Could it be from the oil itself?
Anyway I am really confused right now as I love the car as a daily and even as a track car, however I am a bit disappointed that I can't finish a lap without oil temperature hitting 147 C.
Last edited: