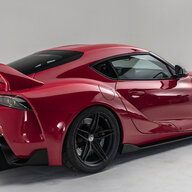 Joined

Nov 16, 2018
Messages
Reaction score

132
Location
Car(s)

2017 Infiniti Q50 Red Sport 400
Despite BMW and Toyota insisting that, after agreeing on basic requirements, they then went their separate ways in developing their new sports cars, things certainly don't look that way; and one more clue is the fact that the
the new Supra
might, eventually, get the next M3's engine.
Autocar
recently had the opportunity to sit down with M Division president Markus Flasch and asked whether the new twin-turbo 3.0-liter six-cylinder from the
X3 M and X4 M
, which will soon find its way in the brand-new M3, could also find be used in the Supra.
"We've certainly made no offer to supply the engine to Toyota – and no request has been made, as far as I know," he said. "But it's an interesting idea, if unlikely for now. It would be a lot for us to give away, you might say. But I'd never say never."
While we're sure many Supra enthusiasts would be intrigued at the possibility of a near-500 HP version of the Japanese sports car, Flasch indicated that it's unlikely to happen, at least while the X3 M and X4 M's S58 engine is still in its infancy.
"As a rule, we don't offer BMW M engines to third parties because we consider them such a strength of our cars," he said. "I think it would be a hard decision for a lot of the team to accept – particularly with the S58 being so new. Why would we sell it before we had a chance to use it ourselves in all the places we plan to?"
Powering both the current Supra and the BMW Z4 M40i is the B58 3.0-liter, single turbo straight-six. While the Toyota's 335 HP might not sound like an awful lot for a rear-wheel drive sports car in 2019, dyno runs have revealed that it likely pumps out closer to 380 HP, propelling it to 62 mph (100 km/h) in 4.1 seconds.
A more powerful variant, complete with two turbochargers and upwards of 500 HP, could be just what
Toyota
needs to win over those remaining diehard Supra fans still not convinced by the new car.
Still, with the long-awaited sports car selling like hot cakes right now, and BMW not willing to share its latest mill just yet we don't expect that to happen anytime soon (if at all..). The mid-life cycle revamp, which is at least three to four years, if not more, into the future, or a special hardcore variant to spice up interest, would be the logical choice – but, then again, you never know.
https://www.carscoops.com/2019/07/bmw-m-boss-says-never-say-never-to-m3-powered-toyota-supra/