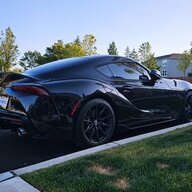 First Name

Daniel.
Joined

Jan 16, 2020
Messages
Reaction score

95
Location
Car(s)

2020 GR Supra , 2006 Z4M Roadster, Accord 15 v6 - 6, Mini S 2020.
Just keep in mind, if you move to thicker oil, you may need to wait a bit more to get the oil to operative temperature.

Remember the S54 back in the day? Most people reported issues with the bearings, the oil was very thick 10w-60. It was first apparent in the E46 M3, and it really never went away. Then for the Z4 M Coupe it also happened, but not as much. The real issue I see is that people usually don't wait 15 minutes to reach oil operating temperature. There is no point in using thicker oil if it's not up to temperature, it won't lubricate as it should.

Even with my Supra, I try to get into operating temp before pushing it, call me old school waiting like a fool in the garage waiting for the car to warm, but better to have the oil working as it should.