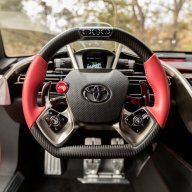 Joined

Jan 13, 2014
Threads
Messages
Reaction score

40
Location
Car(s)

FR-S
... and not a Roadster? A BMW spokesperson just confirmed that they are in talks with Toyota about a roadster.
BMW Confirms Talks with Toyota on Roadster, Dismisses Rumors About Axing Mini's Range

As it turns out, recent reports surrounding the death of Mini's Paceman, Coupe and Roadster models appear to have been greatly exaggerated, but on the other hand, the rumors about BMW looking to work together with Toyota on the development of a common platform for roadster models do hold true.

The news comes via BMW sales chief Ian Robertson, who first dismissed the reports about Mini axing its range, stating, "I have no idea where that has come from".

In fact, Peter Schwarzenbauer, the board member responsible for the MINI brand, said the BMW Group's new modular platform for front-wheel drive car could actually lead to the development and production of an even wider range of models for the British automaker.

"There are discussions going on at the moment because the new architecture provides more possibilities," said Schwarzenbauer. "There are a lot of ideas and we are considering how we can have a larger spread."

In regards to roadster models, Robertson said that a business case for two-seater, open top cars for BMW and MINI is becoming "increasingly difficult to make in terms of sales volumes", though, he admitted that, the German automaker is looking into other options, such as sharing development costs with Toyota.

"There are only three markets in the world where you can sell roadsters in any great numbers, Germany, the UK and the United States," explained Robertson. "They don't want them in Asia or Africa or South America and this segment has been under pressure for the past five years."

"We're talking to Toyota - can we have a platform that sits nicely under a roadster? It's possible," he said, adding that BMW and Toyota have been working well together in other areas, such as sharing diesel engines, developing new units, and researching fuel cell vehicles and battery technology.

"It's a good marriage with both parties so strong and we're moving the programme forward," he said.

Robertson did not elaborate on whether the roadster model concerns the Z4, as some reports claim, or a different series in terms of size and cost.