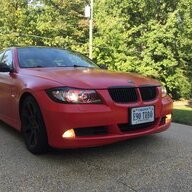 First Name

Muqeet
Joined

Nov 9, 2018
Messages
Reaction score

10
Location
Car(s)

2007 BMW 335i E90 FBO
Hello Supra forum users,
I hope that everyone is having a great day! I know this question is completely unrelated to the Supra but I wanted to ask on a neutral forum.
To give you guys some background, I am a 24 year old med student who is a car enthusiast. Since I am usually super busy with academics I don't have the time to work on my car as much as I would like. Nonetheless, I appreciate driving my car every day. On weekends I usually drive back home (500 mile round trip) and on weekdays I only drive to the gym or to get groceries 5-10 miles. With that being said I drive around 25k miles a year.
My current car is a 2007 BMW 335i E90 and I love that car. It has 152k miles on it and I got it 4 years ago when it had 50k miles. I've modified it with a tune, DCIs, intercooler, and catback exhaust. I have also gotten it custom wrapped. When its running optimally its really fast and sounds nice too. I get compliments on it all the time (even though its worth about $6-7k
)
I have been in the market to get a new car for some time now. I was really considering a Supra before the specs were officially launched. I even started this thread because I was super interested in the MKV:
https://www.supramkv.com/threads/plans-for-your-new-supra.1600/
However, I realized that the Supra does not make the sort of power that I am looking for given its 60k price range. It's not really much faster than my modified 3 series. Furthermore, I prefer a 2+2 coupe rather than a straight up small 2 seater. I know the Supra has a lot of potential (I saw that insta video of that 10 second Supra lol).
However, I really don't have the time to modify the next car I get with everything going on. Aside from some window tints and front end clear coat protection, I am looking forward to driving the car bone stock. With that being said I want it to be as powerful and fun as possible if I am spending upwards of 70k.
Thats why I bring up this question. A new 2020 Mustang GT500 will cost me around 75k and I can pick up a used 2017/2018 GTR with less than 15k miles for around 75k also. If I get the GTR it has to be the latest body style (2017+).
I'm torn between these two cars. Both are amazing machines in my opinion.
What do you fellow car enthusiasts think is a better option for me and why do you think so?
This car will be my daily driver and I will drive it about 25k miles a year. I live in Virginia (so the weather is not too bad and I can definitely manage a RWD monster even in the winter). I plan to buy in Spring 2020!