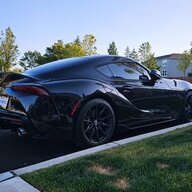 First Name

Daniel.
Joined

Jan 16, 2020
Messages
Reaction score

123
Location
Car(s)

2020 GR Supra , 2021 M4 Base.
I'm not sure if you call it a high turn over.. just checked the auto trader and out of 1000+ supra listed, only about 200+was used. I'm pretty sure some of it are new but listed as used to attract customer. mine was listed as "used" last year although it was new.

however, listed price is a lot higher than what I paid for.. In other word, I can make profit if I sell mine today. If I hadn't done to protect mine against element, I would've sell it and get a new 2021 supra since I don't see need for "tuning" it.

many people has many different reasons but people who are selling may also be taking profit for one reason. but 20% used out of all listed for sale and less than 2% of all sale, I don't think it's high turn over.
I just saw that, is amazing, used 2020 with 10k miles in the 52k~55k range. I do wonder if the car will hold the value.