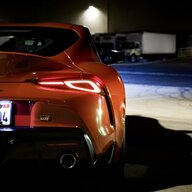 First Name

JR
Joined

Sep 7, 2020
Posts
Reaction score

143
Location
Car(s)

2020 GR Supra, 1995 E36 M3
What's up everyone? Hope everyone is staying safe and doing well!
So I got around to installing my downpipe and a drop in filter along with my first 91 tune earlier today and boy, does this thing rip! I did a couple of pulls for data logging purposes and noticed a couple of things.
With TCS off (single push of the traction button) and in 3rd* gear, WOT had the car's rear end stepping out at around 3500RPM, which I'm assuming, is when the turbo spools up and max torque is achieved. I've never had a car with so much power break traction like this before, but I definitely let off due to fear of losing control lol.
With TCS on, I was able to go WOT in 3rd with minimal spin, but I do feel the car was making adjustments as the throttle was modulating (if that makes any sense) to prevent me from losing control.
My questions are these, especially those pushing tuned vehicles making more power:
1) Are you doing hard pulls with TCS on or off?
2) If you're doing hard pulls with TCS off, are you modulating the throttle yourself?
3) Would stickier tires (say 295 or 305 width) remedy these issues? I'm thinking R888R.
Any feedback would be appreciated

Last edited: