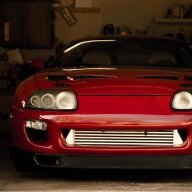 Moderator
Staff member
Moderator
Alright, friends! This has always been a topic in the background of many discussions, but not one that has been really deep dived much. This is completely understandable because (as you'll see momentarily) an MT swap is a complicated and expensive ordeal, with a huge number of unknowns.
For some time now I have been doing research into what it would take to Manual swap an A90, and I will post what I have found, with the intention of making it easier for the eventual brave idiot that attempts this conversion themselves. I will preface that EAG in San Antonio, TX has successfully swapped an A90 with a manual, and I have been in that car and seen the work up close. They did a great job from what I can see but I have not driven it, so I cannot comment on the driving experience. With news circulating that Toyota may bring a Manual Transmission to the Supra themselves, this entire conversion may become redundant, but until then, let's take a look and see what we can figure out.
The information I have gathered has come from BMW Forums, EAG's YouTube series, as well as analysis of the B58 and various BMW gearboxes both myself and with the help of some industry peeps.
The transmission that appears to be compatible with the Supra's B58 bolt pattern, starter location, and crank is the
BMW ZF GS6-45
. This transmission comes in two flavors, the GS6-45DZ (found in the G30 520d)(PN# 23008609431) and the GS6-45BZ (found in the F20 M140i and F22 M240i)(PN# 23008609450). The Z4 20i has an available 6-speed manual, the ZF GS6-L40LZ (PN# 23008609492), which is shared with the European G30 318d as well as a particular version of the 520d, but I cannot find any info that would suggest it is compatible with B58. It is possible that this is a similar trans to the GS6-45DZ, but with slightly different ratios and newer. I will continue looking into this. Additionally, the older F10/F11 520d also came with the GS6-45DZ but paired to the N57 rather than the B57, so the compatibility with those gearboxes is also unknown.
A90/Z4 Auto Trans:
G29 Z4 20i Manual Trans:
G30 520d Manual Trans:
Now, this following image tripped me up for a little while. Real OEM shows the M240i/M140i Transmission in this diagram:
As you can see, the starter is in the wrong location. This would rule this out as a potential option. BUT, I found one of these transmissions on eBay for sale in Spain. This came out of a crashed M140i:
As you can see, different starter location from the RealOEM diagram, but the correct starter location for the B58 in the A90/Z4. It appears that RealOEM has the wrong diagram, or perhaps there were different versions. I'm leaning towards it being the wrong diagram, however.
So, as far as I can tell, 520d gearbox is good, M240i/M140i gearbox is probably good, and the Z4 sDrive20i/318d gearbox is unknown but it certainly looks right. The 318d box is the longest geared, however, so I won't be considering it going forward.
The gear ratios and estimated speed at 7000rpm are as follows:
Supra A90 ZF 8HP51:
1st- 5.25, 33mph
2nd- 3.36, 52mph
3rd- 2.172, 81mph
4th- 1.720, 102mph
5th- 1.316, 133mph
6th- 1, 176mph
7th- 0.822, 214mph
8th- 0.640, 274mph
Top Gear at 70mph = 1800rpm
520d ZF GS6-45DZ:
1st- 4.11, 43mph
2nd- 2.25, 78mph
3rd- 1.4, 125mph
4th- 1, 176mph
5th- 0.8, 220mph
6th- 0.66, 266mph
Top Gear at 70mph = 1850rpm
M240i GS6-45BZ:
1st- 4.11, 43mph
2nd- 2.315, 76mph
3rd- 1.542, 114mph
4th- 1.179, 149mph
5th- 1, 176mph
6th- 0.846, 208mph
Top Gear at 70mph = 2360rpm
The Final Drive in the A90 Supra is 3.154.
Okay, so now that the transmissions and their differences are established, we can see how the driving experience would change based on the gearing. Both the diesel and petrol versions of this transmission are geared somewhat long for the final drive. This appears to be how BMW intends their cars to be, however, since the M240i has a 3.077 final drive from the factory (and smaller 245/35/18 tires) and thus is only a little bit shorter in gearing compared to the A90 with the same trans.
More aggressive diff options are available in other M cars, notably the M3/M4 with a 3.462. However, I do not know if this diff is cross-compatible with the A90. The A90 and Z4 use the M-Sport Diff (PN# 33108686992) whereas the M3/M4 use the Active-M Diff (PN# 33108090480). The diffs appear to be shaped differently, but I would be curious to see if the Final Drive could be swapped from the M3/M4 to the A90.
With a 3.462 final drive, the A90 with the MTs would be geared as follows:
520d ZF GS6-45DZ:
1st- 4.11, 39mph
2nd- 2.25, 71mph
3rd- 1.4, 114mph
4th- 1, 160mph
5th- 0.8, 200mph
6th- 0.66, 242mph
Top Gear at 70mph = 2020rpm
M240i GS6-45BZ:
1st- 4.11, 39mph
2nd- 2.315, 69mph
3rd- 1.542, 104mph
4th- 1.179, 136mph
5th- 1, 160mph
6th- 0.846, 189mph
Top Gear at 70mph = 2600rpm
Personally, I feel as though the sweet spot is the 3.462 final drive with the 520d trans. For a street car, having the longer overdrives is nice because highway driving will still be very reasonable. But since the diff ratio is still a question mark in terms of compatibility, then I would go with the M240i box for the more aggressive 2-4 gears with the stock rear diff.
If I'm being totally honest, none of them seem super ideal. The most ideal ratios based on calculations would be the 520d gearbox paired with a 3.73 final drive. This will get you aggressive gearing for 1st through 4th, with a nice long overdrive 6th that will cruise at 2180rpm at 70mph in 6th gear.
Okay, now that that is out of the way, let's talk costs. Here is a rough list of the main parts you will need along with an estimate of price buying used parts off of other BMWs as well as a few other new bits:
M240i Gearbox, ZF GS6-45BZ, 23008609450 / 23008609451 - ~$2000-3000 used
M240i Flywheel, Dual Mass OEM New $1200
Pressure Plate Bolts, 21207548052, 8x, $1.50/ea, ~$12
Flywheel Bolts, 11228507622, 8x, $12/ea. ~$100
M240i Clutch Kit, Aftermarket Spec Clutch, $900
M240i/M2/M3/M4 Pedal Box, 35006860645 or 35006876795, $100-150
M240i Clutch Slave Cylinder, 21526795713, $100
M240i Clutch Master Cylinder, 21526879477 $50-$150
M240i Shifter Assembly, 25118608238, $150-200
Shift Linkage Lengthening, $100?
M240i Clutch Release Bearing With Release Fork, 21517564027, $80
M240i Clutch Pilot Bearing, 21207536792, $25
Transmission Mount/Bracket, Used $53
A90 Driveshaft, Lengthened ~$150
M240i Manual Trans Service Kit, 83222239654KT, $110
Brake Pedal Switch, 35006876896, $60
Shifter Rubber Boot, 25117596026, $40
Estimate: ~$6287
So, rounding up, I'd say about $6500 all in on parts. If you are buying all new bits including the gearbox, it'll likely be about 2-3k more, so about $8500-9500.
That is a lot! Certainly not an inexpensive weekend project.
This does not include the price or complexity of the huge question mark of coding. How will the DMEs be coded in order to accept the change in transmission without wanting to bite your head off at every moment? This, I cannot answer, as I do not have the expertise. EAG has gotten their car running, although it does display P for Park at all times, but other than that it doesn't seem to have issues. It is possible that proficient BMW coders can make short work of this, but I am yet to delve into the subject.
Additionally, this conversion will require some slight hacking of your interior center console, as well as your trans tunnel, so it not "reversible" as such. The pedal box will need a spacer to mount properly as well. Other than that, the factory brake fluid reservoir has a provision for a clutch line, and the space in the footwell should allow for the manual pedals. The shift linkage must be lengthened by about 2". EAG used a 135i clutch, but it seems that an M240i clutch should work. Additionally, the manual trans is shorter than the automatic, so the driveshaft will have to be lengthened by a few inches. The existing Guibo should work fine, I believe.
That's all I got! I hope that with a little more research and time, this swap could potentially become more realistic, but as it stands it's a little bit over my pay grade personally. Not to say that it isn't something that one of you guys could attempt! I would love to see somebody do it, as I think it will make for a very unique car. If I had a second A90, I totally would attempt it. I'm sure some costs could be recouped by selling the stock auto trans (there are a few listed on eBay Germany for ~$1500), but even with that, it's a lot to spend. Let me know if you guys have any more insight or ideas, or if somebody here wants to bankroll me doing this on my A90 haha. If I ever do end up making the conversion, I will be certain to document every step.
Last edited: