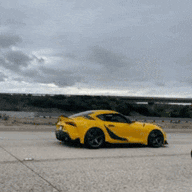 Joined

May 10, 2020
Threads
Messages
Reaction score

3,458
Car(s)

2020 3.0 Premium
Vehicle Showcase
I know someone within my group who's trading his 2.0 to get my buddy's 2020 LE. He was barely starting to crack into the 2.0, i coded sport plus and everything. But he's getting power hungry so that's why he's going 3.0 now.. this is the 3rd 2.0 owner i've known/ heard of trading in his 2.0 for the big boys.
I've owned an Evo X before the Supra too. Yeah, evos are powerful but now that i own the Supra, i'm starting to realize that after being $1k in performance mods into the Supra, it would blow my FBO, built block (stock sleeves), cammed, FP red, E85 evo x (high 400hp~low 500hp) with just an E30 OTS map. My evo was no slouch neither, but let's say i was a little butt hurt knowing how much i money and time i put into the Evo only to get walked by a Supra on a DP and tune..
But straying off topic, just get the 3.0. In the 2.0, you'll get used to the power REAL quick and realize you'll need to mod it to satisfy your needs... then you'll be in the hole and now wanting to trade in for a 3.0. Just skip the stepping stone.