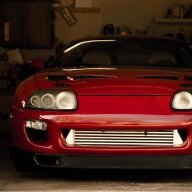 Moderator
Staff member
Moderator
The following is a list of details and specs of the MKV Supra in US-spec. These details are unconfirmed, but are from a valid origin.
3.0l Turbo I6, 335hp/369lb-ft
0-60: 4.5 seconds
~3300 lbs
~$63.5K USD MSRP
Heads-up Display, Lane assist, Pre-Collision warning, Navigation, Parking assist, etc as standard.
Our rendered images are fairly accurate to the real car. Small details are different.
Side mirrors are the BMW-esque 3-series takeoffs that we all complained about, blacked out.

New Supra badge.
Grey and Red "GR" badge on rear of car.
Wheels are 19" two-tone split 5 spokes. Likely the ones found here:

Body fender "vents" are fake, both front and rear.
Interior is objectively quite nice:
Seats are black leather sports seat. Nice stitching and accents.
High-quality materials. Nice plastics. Lexus level quality
Center console has a BMW-style screen with iDrive. UI is reskinned slightly.
Instrument cluster is fully digital. Physical readouts flank the screen around it
Radio/HVAC controls similar to BMW, but separated into two separate stacks.
Steering wheel is standard BMW wheel with Toyota logo.
HVAC vents are nice, thin like newer Lexuses with a splash of chrome.
Overall dashboard is a good look, quality interior. Shape and style is different to Z4.
The auto shifter looks similar to BMW.
Standard iDrive controls left of the shifter.
Overall interior is bespoke, not the same as Z4, more sporty. But shares some switchgear.
The car has a Heads Up Display
There is a rear strut bar in brushed aluminum.
I will update this post if the information changes.
I want to just reiterate, this information is not from a vetted source and not from myself or any of our forum insiders. I do not know if this some sort of misinformation strategy or even an elaborate trolling, but the background checked out and so here is the info presented as it was given to me.
Last edited: