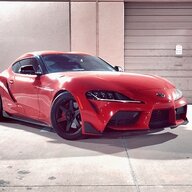 Joined

Sep 4, 2020
Posts
Reaction score

29
Location
Car(s)

2020 Toyota Supra Premium 3.0 Renaissance Red 2.0
Hey guys,
I want to give Supra owners a heads up on the fitment quality of this piece. The right switch panel for drivers side does not match. This is a shame because otherwise the weave is spot on compared to stock Supra weave pattern.
I am currently trying to initiate a return via FTSpeed, and am awaiting a response. I originally didn't want to return, but I can't live with the fitment issues. Below is a picture and description of issue sent to Brian at FTSpeed. I sent a follow-up after this email requested a refund, will update here when I hear word back.
"I recently ordered the OLM CF switch panels for the 2020 Supra. The driver side door panel has slight fitment issues. I know CF items never fit perfectly, but just wanted to give you guys a heads up. The right mirror adjustment slot hole is the same size as the button next to it. This is the issue, the right button is a slide button that is a tad larger than the left, to accommodate this. The CF piece is the same size opening for both button holes. I have to slightly have the bevel raised and slide the button under to make it fit and still usable. IF I slide the button to the left it fits, however that makes the mirrors tilt down when in reverse, which I do not like. I'm not looking for a return, I don't want to be a hassle about it, but want to let you guys know. I know it isn't your fault, but this being a pricier piece, it's a bit annoying. Also, the double sided tape that comes with it is a bit thick and I had to remove and use thinner double sided squares as it will float above the panel too much."