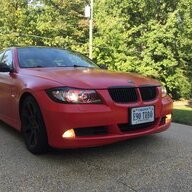 First Name

Muqeet
Joined

Nov 9, 2018
Posts
Reaction score

10
Location
Car(s)

2007 BMW 335i E90 FBO
Hey everyone! I didn't see a thread like this so decided to make one.

Now that the pic got leaked and we see that the production car is indeed as cool looking as the original FT-1 concept I wanted to see what everybody's plan is regarding their own Supra!

Obviously we don't have all the info such as prices, packages, and colors but we can assume based on the information we do have. For the purposes here let's assume that only one trim is available and that's what we are talking about- The 380 HP I6 Automatic which will cost around $60k USD.

If you're not planning on getting the car maybe you can just answer questions 8 and 9!

1.

Will you buy the 2020 Supra as soon as you can? Or will you wait for the 2021? (Or later)



2.

What color combination will you get?



3.

What will you use your car for primarily? (Daily driving? Weekend? Track?)



4.

How much do you expect to drive your car per year?



5.

What performance modifications will you do and when will you do them?



6.

What cosmetic modifications will you do and when will you do them?



7.

Have you thought of a cool vanity license plate for your new car yet?



8.

What, if anything, might persuade you not to buy this car?



9.

Do you think you will end up buying it anyways or is this a deal breaker for you?

My Answers:

1. I will buy it as soon as I can

2. I want to get a Black one with a Red interior!

3. Daily Driving

4. I drive 30-35k miles a year

5. Intake, exhaust, tune for sure and I'll see whatever else I need. I will wait until the factory warranty is over until I do any mods. Since I drive a lot this won't take much more than a year assuming Toyota still gives the standard 3 year 36k bumper to bumper.

6. Will probably get it tinted the day I get it. 35% on the sides 20% on the rear hatch and 70% on the front windshield. I'll get the front bumper, hood, and fenders clear wrapped to protect against rock chips. A couple years down the road will probably get the car vinyl wrapped another color.

7. Still thinking about these. So far I'm liking "NOJZ4ME" and "EURO JDM"

8. The fact thats its a 2 seater and not a 2+2 like the OG Supras or GTRs. I used to have a 350z and man its really annoying barely having space for anything or anyone. Also I wish they made a manual transmission.

9. I will probably buy it anyways. BMW Performance with Toyota Reliability--can't get better than that!!