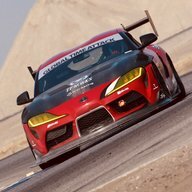 First Name

Jackie
Joined

Sep 11, 2019
Posts
Reaction score

332
Location
Website
Car(s)

Supra A90, AE86, S2K AP2
[Main Post updated 3/10/2020]
Hello everyone, Jackie Ding here!
Finally I joined this forum ha. Must say I have been lurking around since the winter of '18, reading and dissecting every A70TTR posts or replies just to get a bit more info on what to expect out of the A90... So shoutout to you kind sir!
Quick debrief on the project goal: It's called the TA90, with TA for Time Attack. This car will be built exclusively for Time Attack, and the end goal is to run a lap time on 200 treadwear street tires matching that of a proper GT4-spec car on slicks, all while keeping the car "streetable" per the Gridlife & GTA rulebook. That means a lap time of around 1:29.xxx around Road Atlanta. Yes, we'll need a lot of power and aero advantage to make up the difference in mechanical grip, but I'm confident we can do it.
8/8/2019
To start, I flew from Michigan to New Jersey to pick up the Supra. An hour after I picked up the new car, I came to my long time supporter Raceseng's HQ in PA. They did some quick measurements on the car and gave me a pair of their red tow hooks. This is really a safety requirement (and for quick recovery of the car on track), but I like how the red complimented the red calipers.
8/9
I drove through the night and arrived at Toronto Motorsports Park the very next day.For a full stock car, it reallllly liked to dance. Around the tight and twisty TMP, you could really get the rear to rotate by trailing in a hint of brake, and when you're going back on power, the whole rear end squats and you shoot out of the corner with awesome traction. This is still on the OE Pilot Super Sports, too. I'm sure I overdrove the car a lot, over-rotating on entry here and there, but it was so compliant and so much more comfortable to drive than the edgy and snappy supercharged S2K. Coming out of hairpins, you really feel the instant torque from the engine. 3rd gear, 3000 RPM, full throttle, gone. There's not the slightest hint of turbo lag whatsoever. The 8 Speed ZF that was my main concern turned out to be amazing, the upshifts at full throttle was instant, the downshifts were immediate (as long as you're low enough in the rev range to do the downshift) and gave you a good amount of engine braking, and while it isn't a GT3RS PDK level of epic, it is seriously close (drove them back to back too).
[Link to the track shakedown video is here]
Negatives, I didn't really like the brake pedal and its long soft travel, and the pads themselves lacked the initial bite, and it was really clear after a day at the brake-eating TMP that the OE pads were overheating and glazing on the stock rotors. The stock seats gave almost no shoulder support so keeping my body in the seat was a major challenge. While I appreciate the idea behind a soft set up, on track the suspensions were just too soft. The stock 320tw Michelin PSS tires can overheat rather easily, but that was gonna be changed out very soon anyway. After a whole day of trying, I put down a 1:19.41 around the very technical TMP, 4 tenths slower than my track-prepped S2K in NA trim.
8/10
The next day, we came to Neo Motorsport's shop to do some track prep for the CSCS Time Attack the next day. We installed brand new CP compound front brake pads from CounterSpace Garage, which is a street/track hybrid. We also flushed out the OE brake fluids for Motul RBF600 and changed the OE 0w20 oil for some Liqui-Moly 5w40. Since this car will see a lot of track abuse I decided to go with the more tried-and-true motorsports approach.
[Link to track prep video is here]
8/11
With the minor track prep complete, we returned to TMP for CSCS Time Attack. Interesting to note, the Pirelli Trofeo R is the spec tire for the series in most classes, but I was given a free pass for this event. We eventually finished 4th in Street RWD behind 2 boosted S2K's and an LS-swapped FD RX7 in Time Attack, but was also persuaded/urged into campaigning the car for Max Attack, an entry-level wheel-to-wheel race with all manners of Time Attack cars, with the fastest cars starting with a handicap, several corners behind. We managed to escape unscathed and actually passed a few cars (350Z, E90 M3, and a 235i) to finish 5th after starting 7th.
[Link to W2W video here]
Over the next few days, we finished off the Canada trip with a glass coating by G'Zox Canada and a livery by C17 Media, very much a tribute to the N24 race car with its GR colors.
8/22
After a minor break, the TA90 was transported down to Road Atlanta for GRIDLIFE, where we put on a set of 19-inch Titan 7 wheels. T7 joined us as a partner/sponsor for the TA90 program this year. Affordable, fully forged wheels that could withstand track punishments really meant a lot to me as a driver. The wheel specs are 19x9.5 +35 front, 19x11 +40 rear, with stock size RE71R tires mounted. The 275/35/19s definitely were a stretch on the wide 11s, and I should've gone with a 285 for sure.
Much to my surprise, the car performed excellently. I knew the additional torque would be helpful, but the fact that the full-weight stock Supra matched my 2800-lbs, 450-WHP Supercharged S2K on the back straight speaks volume for 1) the aerodynamic work that's gone in to minimizing drag (semi-flat bottom also), and 2) the B58 + ZF 8HP combo for delivering power. Have to mention, however, the power drop off after 5000 rpm is very noticable in 5th and 6th gear, especially coming from an S2K where the power climbs and climbs until the redline. The cornering behavior was excellent, the awesome chassis made up for the softness of the OE suspension, and I really had a lot of confidence attacking the high speed curves and even jumping the curbs at Turn 3. The lack of downforce was noticeable at the Esses, but it was still manageable. We finished the weekend with a time of 1:35.0, which placed us 7th in Street Modified class overall. I was very happy with how the car performed, and considering our target was a 1:29.xxx at Atlanta, this meant we only had just 5 seconds to find after a tire upgrade. In other words, it's 100% doable.
Unfortunately, at the end of the weekend, I let one of our teammates take the car out for a spin, and she did a half spin through a gravel trap and clonked a curb hard, which bent something in the right front suspension. The car was immediately taken back to TF Works for some emergency repair, as we had no idea how long it would take to get parts.
8/29
The car arrived at TF Works in Wheeling, IL, and immediately the guys put it on a lift to inspect damage. It turned out to be a passenger front lower control arm that was bent, and being aluminum I suppose it was designed to bend to minimize damage to other parts. It did its job and remained the only casualty, but the problem was neither Toyota USA nor Toyota Canada had this lower control arm. Apparently one of the press cars had a similar problem and Toyota Canada couldn't even get the arm to repair the downed press car. With the only available LCA's having to come from Europe, we took a gamble and ordered a BMW Z4 arm, which was in stock in US but had a completely different part number. Upon inspection, the two arms had the same mold number and all, and the only difference was the bushing metal insert. The arms are pictured below, the lower one is the bent Supra arm and the upper is the new Z4 arm. We installed it, and everything was back to normal!
The car stayed at TF for a few more days and had some 3D scans and its rear trunk pieces removed for weight. The rear muffler was also deleted in favor of the
TFWorks Axleback
, and in total we saved about 75 lbs in total. We also flushed out the Motul RBF600 brake fluid in favor of the Endless RF650, which was recommended by CSG.
9/7
With the TA90 back at 100%, we came to the GRIDLIFE Road America season finale. Road America is an awesome track, but undoubtedly a power track, and here we really struggled. Compared to the front runners, I was down about .5 to 1 full second just on one straight. As the RE71R tires burnt away, the rear grip disappeared and I couldn't put the power down well. And although they are a solid improvement over the OE pads, the CSG CP pads couldn't deal with the consecutive heavy braking zones well, and I had numerous occasions of overshooting the entry simply because I can't slow down enough. We did our best and managed a time of 2:30.770, finishing 10th of 19 cars in StreetMod, but that felt like lightyears away from the class-winning time of 2:21.895. As great as the A90 is from factory, we were simply out-aeroed, out-gripped, AND out-powered.
[Link to the Road America video here]
9/15
With the car mostly untouched, we brought it back to Toronto Motorsports Park for the CSCS Season Finale. I had considered getting new tires for these 19s, but T7 had informed me about their new 18x10.5 nonstaggered wheels which were coming in the next week. Instead of spending money on a set of tires for 1 event, we decided to just burn up what's left of these Bridgestones.
Thankfully, CSG stepped up and delivered us their new C2 Racing compound brake pads, and they were my saving grace. Suddenly, I had much, much, MUCH more confidence with the brake pedal. The long, saggy feeling that I disliked about the Supra was improved, and although the pedal was still a bit long, it felt a lot stiffer. The modulation of the brake pedal was also very easy, and at a tight and twisty track like TMP, it was absolutely key. The tire situation didn't help our cause in the Time Attack event, and we ended up 6th in Street RWD after a pretty bad drive from me, but the very next day, we returned to test the car some more, and without any changes other than lowering the hell out of the tire pressure, we ran a time of 1:17.76, over 1.6 seconds faster than our bone stock time of 19.4. With some new tires and a bit of suspension mods, I wouldn't be surprised to see us dip into the 16s...
9/20
After a pretty confident-inspiring day at TMP, we came to M1 Concourse with the TA90 for Motovicity's Speed Ring. To prepare for the high-caliber event, we got the car on an alignment rack and had NVAuto realigned the car for us to around 2 degrees of camber all around, with 0 front toe and around 0.3 degree toe in on the rear. The new wheels and tires set up also arrived, too: the Titan7 TS-5s, in 18x10.5 front and rear, wrapped in 275/40/18 Yokohama Advan A052. In order to clear the front shocks, we had to put on a 15 mm front wheel spacer. Once we make the switch to coilovers, this won't be an issue anymore.
Truly, car handled great. Finally had the new tires which gave me the turn in and traction that I really needed. Then, I made a small mistake with car placement, the left front tire touched the slightly damp grass, and dragged me straight off the road. Fractions later, the car smacked the wall, all 3 airbags blew out, and I was left in shock. I just crashed the Supra.
Frankly, the car is not too badly damaged. Apart from bodywork and airbag, we bent the same lower control arm as before, and that's it as far as mechanical damage on the car. But without the OE tablets to unlock the freaked out computers, the TA90 was a brick. We eventually called Toyota Roadside Assistance and had it towed to a local Toyota dealership. Luckily I had track insurance which was nice and easy to deal with. Since then, the car had been sold off to Guff of Albon,
and you can follow along the car's recovery here.
10/6
With the track insurance payout and the private sale funds, we picked up a new Supra A90!
This specific Supra is a base model with zero additional options or packages, i.e. No radar cruise control, no parking sensors, no fancy big display, no CF/red mirror caps, no painted brake calipers, and so on. Curiously the only performance difference on this compared to the Premium/LE is the rear rotor size, being only 330x20 instead of the 345/24 on the Premium and LE. This car was listed at $51900 MSRP in Florida, and after fees and registration it was just over 56k. All things considered, really not bad. I flew down on a Friday, picked her up, and drove her back to our base in Michigan. Took a slight detour to break the car in at Tail of the Dragons and boy was it fun!
11/5
The new livery was done by the guys at C17 Media, and is a nod to the white and red livery that I had on the S2K. We will be doing a more custom livery over the winter, just didn't have time to go super fancy on this one.
The car was then taken to AMS Performance, our powertrain partner, for their own AMS downpipe and tune. Unfortunately my Base was one of the many affected by the new Rom files and couldn't be flashed through the OBD port, but the guys managed to bench flash it and we gained a solid 100 whp from 5k to 7500 rpm. This is actually a safe detune as we wanted to be safe for our first real event with the V2 car, and that we're worried about the fuel quality in California where we'd be competing. According to the tuner, there is room for at least another 25 whp.
With the tune complete, we focused on the next step, weight reduction. We installed an Antigravity Group 47 30 Ah Lithium Ion battery, but it was a little too short to reach the side bracket, so we'll have to custom fab something up. The rear trunk panels are once again removed, and we also received a shipment from our sponsor Sparco and installed a pair of their Evo QRT seats and 6 point harnesses. The seat is perfect for a slim-build driver and offers a lot of shoulder support but is very comfortable (at least for my 21 years old back). We didn't have a scale, but we estimate that between the two seats, we saved about 60-65 lbs from the heavy OEM seats. A further 50 lbs from the battery and 50 lbs from the interior brings our weight reduction total to about 150-160 lbs, but we'll put the car on the scales soon.
11/8
We came to Touge Factory for a full suspension makeover. This includes the Eibach adjustable front sway bar, SPL arms & bushings in the front and rear, as well as TF's in-house Reinharte 2-way coilovers. After this, the ride height was set and the car was corner balanced. Without aero or roll bar, the car weight 3270 lbs with driver.
11/11
The PhD Racing x Spage Sport A90 Supra aero kit was finally completed. We brought the car to Spage Sport, where Alex worked 50 hrs straight to pump everything out and installed before the car was due to ship out to Cali for Global Time Attack. It was awesome seeing the man work up close, the attention to detail was unbelievable.
Here is the front lip test fitted on the car. The final production version will have a bottom side and can be simply put over the existing front plastic lip and installed in place using the factory push pins.
After this, the chassis-mounted foam-core carbon splitter, trunk-mounted rear swan-neck GT Wing, and the 2-piece bonded dry carbon vented hood was installed. Every carbon part on this car will be made available for purchase through us at PhD Racing, pricing info coming soon.
11/15
Although we had the Cusco harness bar installed and it was approved for use in GTA, I didn't like the flimsiness of the bar and its mounting locations. Considering my own driving history in the A90, I decided that a proper roll bar was the way to go for this build. Studio RSR was able to give me a good deal on their multi-point roll bar, and I actually requested that a few of their cross bars (for reinforcing passenger side) to be removed for weight-reduction purposes. The install was quick and took around 30 minutes, and although the car gained around 40~50 lbs of weight, I was very happy with the additional safety.
Alex from Spage Sport also flew in from Canada, and brought with him brand new dry carbon fender vents. They were designed to extract as much wheelwell pressure as possible, and installation involved trimming our massive carbon fiber hood (a bit painful to watch) and riveting in the new vents. For the future the vents can be bonded into the layers for a much cleaner look, but this is a prototype and we didn't have the time. In addition, the plastic fender liner pieces had to be trimmed, but it was a very simple job and didn't affect the rest of the fender liner's rigidity.
With that complete, we moved on to swap out the smaller Base rear brake system for the larger rotor & caliper from a Premium. I don't have pictures from this part but it was a sizable difference, and the pad shapes are completely different also. After that was complete, the rear pads were upgraded to CounterSpace Garage C11 compound to withstand the additional abuse on track. Fluids used was Endless RF650.
11/17
Global Time Attack Finals @ Buttonwillow Raceway Park!
Saturday morning. It was clear that we weren't the only Supra on the grid for this year's GTA Finals. There were a total of eight A90s entered across the 4 classes, and five of them (us included) were in the most competitive Street class with a total of 30 cars. Seeing the HKS widebodied car and the Evasive SuperStreet car in person was cool, but we were razor focused on our target: finishing the event as the fastest A90.
To combat handling issue, we switched out the rear springs from 18k to 20k and raised the rear ride height, as well as trimming out the rear wing angle further. But for the electric issues, we had no real way of dealing with them other than disconnecting the battery, letting the car hard cycle, then reconnecting the battery. We suspected the dash & diff problem was related to our lithium battery (I opted for a 30 Ah battery instead of the largest 60 Ah for weight-savings), but again, no real solution on the spot other than keep trying to do laps and pray to god that the car stays functional for our fast laps.
Easier said than done, considering it was only my second visit to Buttonwillow, and it's the first time we've ever driven the modified Supra. With small changes every session, the car was getting better and better. The soft marshmallow feel of the original car was gone, and in its place is a tightly-strung circuit weapon that is accurate and precise with my every input. With every flying lap, my times dropped further an further. 2:17 -> 1:54.6 -> 1:52.9, then on Sunday morning, we went out and did a 1:50.4. I had expected the car to run a 52-53, but a 50 was just incredible.
We kept pushing, and the car gave us more. Very next session, I was on a flyer, but had traffic and had to go around the outside of a Porsche GT3 at 100 mph at Riverside, one of the fastest corners on the whole track. I pushed on to clock in a 1:50.059, hundredths away from the 1:49 that we dreamed about so much. Sadly the Supra refused to cooperate to give me anymore chances, and as annoyed as I was, I'm pleased with our time. Not only did we finish the event as the fastest Supra A90 by 2 seconds, but we finished 4th overall in Street class, behind an Evo and two crazily powerful STI's. Just phenomenal, especially considering the car was put together in 2 weeks and shipped out with no testing at all.
The whole thing felt like a dream. Mentally, it was a huge relief. The burden of crashing the grey V1 car felt like it just evaporated off my shoulders and I was able to move forward once more.
2/25
Cut to the chase, WE WON SUPER LAP BATTLE COTA!!!
It was the most wonderful of weekends, because everything we did just seemed to work.
We prepared a set of new RS*R Cancellers but the 4 front KW cancellers solved our issue, and we had zero traction control issues.
No E-diff power problem, no instrument cluster cutting out, and even though we tested an Antigravity 60 Ah Li battery, we decided to just keep it safe and use the OE battery for this event. We'll test out the 60 Ah battery next time thoroughly.
The front splitter changes, rear Eibach sway bar, and ride height change all helped the car turn in so much better. The understeer I hated was gone, instead replaced by super controllable hint of oversteer.
The AMS Tune on EcuTek beta software is getting close, and we made a reliable 460 whp and 530 tq on pump gas.
Neo Motorsport BBK was good, but we're working with Neo to make some changes to improve the performance and correct the bias a little better.
Biggest thing to note, we noticed a drop in power on a long run, and I'm suspecting the Intake air temp is getting through the roof. We'll work with AMS on something to combat this, but just remember the car is still on 100% stock cooling.
Even though our lap times from Day 1 were taken away, we put our head down and dropped over 1.5 seconds on Day 2. To win in a such a fashion felt awesome.
If you guys like to see our weekend highlight video, it is here!
More updates to come in March & April! Lots of testing days to come. Can't wait.
JD
Last edited: