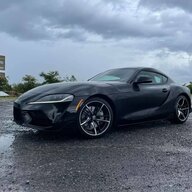 First Name

Brent
Joined

Aug 4, 2021
Messages
Reaction score

3
Location
Car(s)

Supra, rx7, sc400, Trans Am, CTS
This year I put myself in a 2021 Supra. I liked them since they were first announced. I was close to getting a 2.0 but I knew if I did I would always wished I spent the extra to get the 3.0, so that's what I went with. I was daily driving a 335i with the N55 so the engine platform was similar. I traded one BMW 3.0 for another. Everyone tells me this car is "fire", and well, its black, so I call it the Amaterasu.
Not long after I got the car Import Faceoff was having a car meet at the local drag way with Noel G. hosting. I took the car down the track without practicing launch control. First run to car launched great then cut out at 50mph the rest of the drive. I tried a second run without burning out or using launch control and ran a 12.7.
I'd like to keep my carpet nice for a long time so I decided to order some mats from Car Mats Customs.
After about two months of owning the car, I pulled the trigger to get the JB4.... and I have no regrets. I like that I can change the map by a few clicks from my phone. This version also has the EWG pre installed.
I used to love hearing my loud bov from my rx7. I was a little disappointed to discover that the Supra's turbo system doesn't have a bov to went into the atmosphere. After a little research, it was claimed that a cai makes a nice "bov" like sound. Between the intake and the JB4, it definitely sounds much nicer. It doesn't pick up well in video, but in person it sounds great.