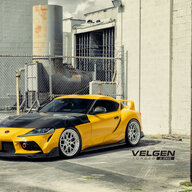 Well-Known Member
Gold Sponsor
We're no stranger when it comes to the new A90 Supra. These Velgen SL-5 just give this Supra the look it was missing! These wheels are high performance wheels that come in just shy of 23.5lbs. This set here is ready for this Supra to hit the track and also do some driving around town! These are to go without say that they are. the perfect wheel option to improve style and performance. Since these are custom built you aren't constrained to one or two finishes either we can spec them out how you'd like. We offer over 100 different wheel finishes, you can also customize the widths & offsets of these wheels.

Wheel Specs:
Velgen SL-5
Wheel Size: 20"x9.5"//20"x11"
Wheel Finish: Brushed Center/Polished Lip
Tires: Nitto NT555 G2
Tire Size: 275/30/20 // 305/30/20
​
Visit
www.Velgenwheels.com
& contact us for details, availability, and pricing on these Velgen SL Series Wheels. Comment below & tell us what you think!
​