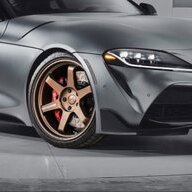 First Name

Justin
Joined

Jan 13, 2019
Messages
Reaction score

482
Location
Car(s)

Toyota Prius V, Porsche Boxster
Ok... hear me out.

The Supra is a 2 door sports car with 335hp/365ft.lb.tq that does 0-60 in 4.1 seconds. It has a heads-up display, Apple CarPlay, JBL audio and Drivers Assistance. It gets 26mpg. It will cost $49-55k and will be available sometime this summer.

The Model 3 (let's talk about the Performance model) is a 4 door family sedan with an electric motor that makes it go 0-60 in 3.2 seconds. It has a 15" screen, no Apple CarPlay, but a monster stereo and, of course, Autopilot. It goes ~300 mi on a charge. It costs $59k before tax incentives and "gas savings" and is available now.

The Model 3 Performance, especially with Track Mode, has done very well in handling tests from multiple journalists. It has proven to be a capable track car unlike many electric cars before it. It has done quite well in tests against the likes of the BMW M3, even. It is slightly more expensive but you can have the non-Performance which still does 0-60 in 4.5 seconds for even less than the Supra (and a true RWD version for even less than that). Finally, you have a car that has three extra seats, one extra trunk, drives itself and is future proofed.

I am eagerly awaiting first drive reviews of the Supra to see how much better it drives (and, obviously, sounds) than something like the Model 3. My wife keeps telling me she would appreciate the back seats to fit a car seat but... eh...

Any thoughts on this odd-ball comparison?