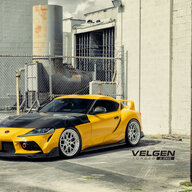 Well-Known Member
Gold Sponsor
Hello fellow members, here we have featured our new light weight series wheels on this MK5 Supra in Gloss Gunmetal. We would love to hear some feedback on which finishes you guys think we should bring in.
Wheel Size: 20"x9.5"//20"x11"
Wheel Finish: Gloss Gunmetal
Tires: Nitto NT555 G2
Tire Size: 275/30/20 // 305/30/20
​
Visit www.Velgenwheels.com & contact us for details, availability, and pricing on these Velgen SL Series Wheels. Comment below & tell us what you think!