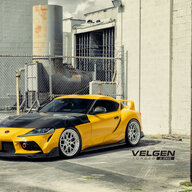 Well-Known Member
Gold Sponsor
Velgen would like to introduce you to our Velgen Forged SL (Step-Lip) Series. These wheels are fully forged and manufactured from 6061-T6 Forged Aluminum. Velgen Forged SL is tested to the following standards SAE, JWL, & VIA standards, TUV is in progress!

All cusom production orders will be produced and shipped in 4-6 weeks. We will be stocking certain applications with certain finishes. The SL Series can be manufactured for any application from 18"-22"
Visit www.Velgenwheels.com & contact us for details, availability, and pricing on these Velgen Forged Truck Wheels. Comment below & tell us what you think!
​