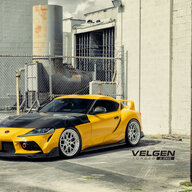 Well-Known Member
Gold Sponsor
This Nitro Yellow, is equipped with brand new Velgen Forged SL-7 – a wheel model designed perfectly for the latest Supra – and finished in a brushed clear centers with polished lips. This Supra is also paired with lowering springs to give it the perfect drop to go with the forged step lip wheels we have chosen and the results speak for themselves! Maybe it's the finish we added to the wheels but we're pretty sure THIS Supra is plenty aggressive
Give us a holler when you're ready to evolve your Supra into something more.
Wheel Specs:
Velgen SL-7
Wheel Size: 20"x9.5" || 20x11
Wheel Finish: Brushed Clear || Polished Lips
Tires: Nitto NT555 G2
Tire Size: 275/30/20 || 305/30/20

​

Visit www.Velgenwheels.com & contact us for details, availability, and pricing on these Velgen Forged Truck Wheels. Comment below & tell us what you think!
​
Last edited: