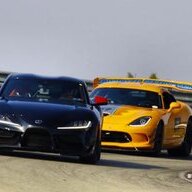 First Name

Larry
Joined

Jan 18, 2019
Posts
Reaction score

374
Location
Car(s)

2020 Supra 175/1500 2007 TRD Edition FJ Cruiser/Lifted/Murdered out 2016 NT 200T F Sport 2019 RCF Anniversary Edition Matte Nebula Gray
Do I reached out to Nero at Titan for the Downpipe and Protune. They took care of me and I got the products with a quick turn around for my track day. My shop got them put on with no problems plug and play. Drop the exhaust through on the down pipe.
I ran map 4 which is pump gas and down pipe. I picked up over 2 seconds on my laps with work out tires and brakes. The air temps where over 88 but car ran like stock no issues at all.
On the street the car feels like a beast from a dig it's a big difference over stock. I want to through in some 100 octane and try some more maps.
Last edited: