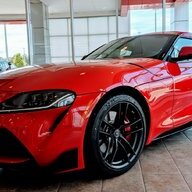 First Name

Bryan
Joined

Aug 1, 2019
Messages
Reaction score

134
Location
Car(s)

1993.5 Supra MKIV Turbo Six Speed Getrag v160 BPU
Vehicle Showcase
Note ** Spec Sheet can be found at the bottom Attached**
I had a deposit down and was still negotiating a price with Tustin Toyota in California for a Turbulence Gray MKV but then out of the Blue my hometown came through and inquired with me about a Launch Edition Red for Sticker or MSRP.
I think the following images are hysterical when looking back on the crazy 2 days. I say crazy because I woke up that morning not thinking I'd be getting a Launch Edition or even a Supra for that matter (If the price was too high at Tustin I would have pulled out even though I had a deposit with them for a Turbulence Gray Premium Loaded)
So if you guys don't already know I am a 20 year owner of a MKIV Supra that I've been working on restoring and it's funny because if you look at the date of this album it's literally the date I decided to go all in on my MKIV and restore it to Maximum Spec but it's also the date where the MKV is Announced or Unveiled. So I'm initially disappointed with the MKV and so my restore job on an Older Supra Begins and I decided to go Michael J Fox and go back in time. The restore job includes a Interior Refresh, new wheels, new engine 2JZ-GTE (Can't find a New Engine, Okay We'll Build a new engine from the ground up), and of course a V160 with a TRD Back End (Diffentrial). Don't ask me how I located all of those parts new because I literally had to sacrifice kill my daughter and sell my soul in order to get each one of these Infinity Stones.
Anyways what transpired here was I was pissed the new Supra was BMW (There was already alot of hate on the interwebs and prices for my MKIV were Soaring) So I had 60 grand saved up to buy the MKV cash and I said Fuq it, Dumped all of it on the Restore Job:
https://photos.app.goo.gl/69o8PpFoVQr9GPbk9
Fast Forward to August and Toyota had a Launch Party with In and Out Burger Food Trucks and I got in the MKV supra and then had the realization that the new Supra would make an Excellent Daily Driver. I mean my Project wasn't a daily driver anymore she instantly became a garage queen right? So damn... Now in July I'm like okay I'll get an MKV (Super Late I mean it's July 31st!!!)
So I'm on the hunt and I tell myself no way I can get a Launch Edition this late markups are crazy and half of them if not more are all sold.. So if I can't get Launch Edition look at a Turbulence Gray or a Nitro Yellow. I'm in California and anyone here will tell you markup is Crazy. Well my hometown dealership back in Ohio reached out to me and this is how all of this transpires:
I inquire about a Red because I'm thinking I might prefer Red over Gray because well my mechanic prefers red and maybe just maybe two red cars will look cool in the garage? I've only driven red cars?
The dealer really wants to make the sale on the Gray and I guess doesn't want me to switch to Red little does he know I already have a MKIV and it's RED!!!
LMAO he has a Launch Edition and it's Sticker but because it's launch it's like 2 grand more so I guess he thinks it's too high and I won't buy it.... It's MSRP or sticker, I'm like SHUTUP TAKE MY MONEY!!! OMFG
MSRP RIGHT?? No way? Seriously?
I got a Launch Edition for Sticker in Late August... So I guess I've been super lucky or super blessed.... So we did it boys we got Two Both in Red , Old School and New Hotness. Garage Queen and Daily Driver.
2019 will be a year for me to remember Thank You Toyota Direct for making all of this possible when I didn't even think or know this could be possible.... Thank you to Kyle and Russell and of course Columbus Ohio my hometown
Last edited: