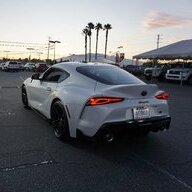 First Name

Josh
Joined

Mar 25, 2018
Posts
Reaction score

1,329
Location
Car(s)

5G 4Runner, MK7 Golf, AZW LE Supra
Vehicle Showcase
The R35 is a beast, I have no doubt about this. Every single R35 I have ever driven, has put a big smile on my face....every single one. It's no surprise the fastest guys at 2K events are running GTR's. I have put an offer on a used R35, two MKV's, and one MKIV.



I agree...there's no doubt the new auto cars are much faster than manual cars, but the overall driving pleasure is second to none in a manual car. I've come to accept that manual cars are almost all but gone....it's why the MKV and R35 are on my list.

Also (just throwing this out there), I know the MKIV's 6spd is great, but I personally have yet to come across a used example that doesn't have a "crunchy" Getrag box for under $60k. A proper rebuild is (as most people know) NOT cheap. Also not something I want to take on.
I think for how long you've been on this forum and how much you have defended this car, it would be surprising if you ended up purchasing another vehicle.
I like the GTR, but it's not that fun on backroads or just cruising. It's a bit too big and a bit too disconnected to be a fun sports car. Now it is insanely tunable and ridiculously fast.
The MKIV is a little too old and getting very difficult to get parts for which is a big reason I wouldn't buy one as my weekend car.