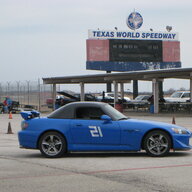 First Name

Peter
Joined

Dec 26, 2017
Posts
Reaction score

52
Location
Car(s)

Hakone 86, '18 Tundra 4x4, '15 4Runner Trail
Vehicle Showcase
Finally saw this thread! Sorry for taking this long!

So while installing our new BBK, the master cylinder went dry on accident and it sucked in a lot of air. Took us a lot of bleeds but the brake pedal was very very unhappy. Like, 75% of it did nothing to stop the car. It was clear we got air into the DSC and ABS pumps, and we were gonna try to keep bleeding it ourselves and get the pedal back. But the next event on the calendar was COTA, where we knew we had to brake from 150 MPH to maybe 50 for a hairpin. We decided to not risk it and go for the dealers option, paid the service fees, and went on to win our class in COTA.

In short, you most likely won't need to take your car into the dealership for a brake bleed, AS LONG AS you aren't a dummy like us and didn't get a lot of air into the system. We did multiple bleeds and fluid flushes ourselves before with no problem, and will continue to do so in the future.
Congrats on the result. COTA is a lot of fun. They've done some bump removal since I was there last. How is it?