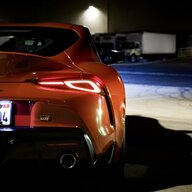 First Name

JR
Joined

Sep 7, 2020
Messages
Reaction score

149
Location
Car(s)

2020 GR Supra, 1995 E36 M3
I've actually been following Spiguyver on youtube. He has a JB4 piggyback tune on his supra. I will be looking into that option over the next few months. The only issue is that I don't think you can clear CELs with JB4 tunes. I REALLY want to get a catless downpipe on this car, but it doesn't seem feasible at the moment.
If I recall correctly, I think you can clear CEL codes manually but I don't think it will auto clear/ block the CEL from coming on due to a catless downpipe.
@Spiguyver
is around on the forums. Actually, here was a thread he had regarding the Burger tuning products:
https://www.supramkv.com/threads/jb4-added-to-2021-a91-edition.6964/
If a CEL is your main concern, I would look into a catted downpipe such as the one active autowerke makes. Unless you're going full race car/ maximum gains, a free flowing downpipe might just be right for you. I threw one of those bad boys on and love the sound. Noticeably louder but not obnoxious

.
A lot of the BMW guys use JB4 and it's a proven product. It may just hold you over until these newer ECUs get unlocked.