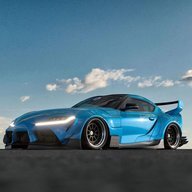 First Name

Chris Hill
Joined

Apr 17, 2019
Posts
Reaction score

115
Location
Car(s)

2014 Ferrari 458 / 2016 Nissan GT-R
Vehicle Showcase
1st: My Launch Edition door panels don't both come in red. One came in red and the other side is black. I asked my dealer who asked the OEM and they said it's designed to be that way. Very strange. Maybe to mimic the GR badge coloring?

2nd: My hood and rear hatch were not properly gapped or fitted so a lot of adjustment and fine tuning were needed to make the trunk fully close flush and the hood to close on both sides flush. When it came from the factory it took A LOT of pressure on the passenger side to get the hood to latch. The PDI specialist for the dealer said the Toyota Tech told him that the hood would pull closed itself once closed but that doesn't seem to be happening.

3rd: No bumps? The rear subs seem useless to me. I turn up the bass on the system which I great. I got the JBL premium system but the subs aren't noticeable even when turned up. The sound however of the stereo is very good and very clean and loud.

4th: Car handles great but there is some body roll that I feel could easily be remedied with a set of performance sway bars. Overall the car feels amazing!

Just figured I'd share and see if any of you see or feel the same about yours. Still very very happy with my purchase.