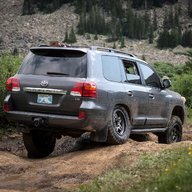 First Name

Nate
Joined

Jul 15, 2019
Messages
Reaction score

58
Location
Car(s)

URJ200, UZJ100, FZJ80
Hey all, while I'm guessing some of you already know this, I figured I'd do a brief how to on how your track the shipping vessel your car is on. It's pretty common for BMW M car purchasers to track their respective ships, so I'll share I what I learned tracking two M cars in the past.
Your sales rep will be able to see when the vehicle has or is expected to leave port. Once Toyota's order system shows the vehicle has left, they sales rep can call Toyota North America to obtain the Vessel Name and ID#.
As a side note: If I'm remembering correctly, BMW CAs can see this directly on their order screen. Which would explain the call to Toyota NA.
Today my sales rep was able to get my vessel information: 343 OCENAUS LEADER
There are a few websites you can use, but I personally use
www.vesselfinder.com
(aka, VF) because it is free. The downside to the free service is that the open water updates are slow and are not in real time. You can use a pay site like
www.fleetmon.com
for frequent open water updates.
You can track the vessel in nearly real time while it is in radio range of the shoreline.
With a bit of Google-fu you can find the vessel schedule on the shipping company's website. Using VF I see that my vessel is owned by the NYK group from the vessel's photo:
Doing a quick search for NYK vessel schedule yields this:
Side Note: RORO means Roll On Roll Off
Pick the schedule the corresponds to Europe to USA or East to West. Using this schedule below I confirmed that my car will make port around Aug 28. Which port depends on what part of the country you're in, but generally Denver west will be from Hueneme in California, South central states come through Houston, and east coast and northern states may come through Jersey.
Have fun and post up below if you can find your car!
Here's mine as of Aug 4:
Last edited: